Why do Local Businesses need a mobile website?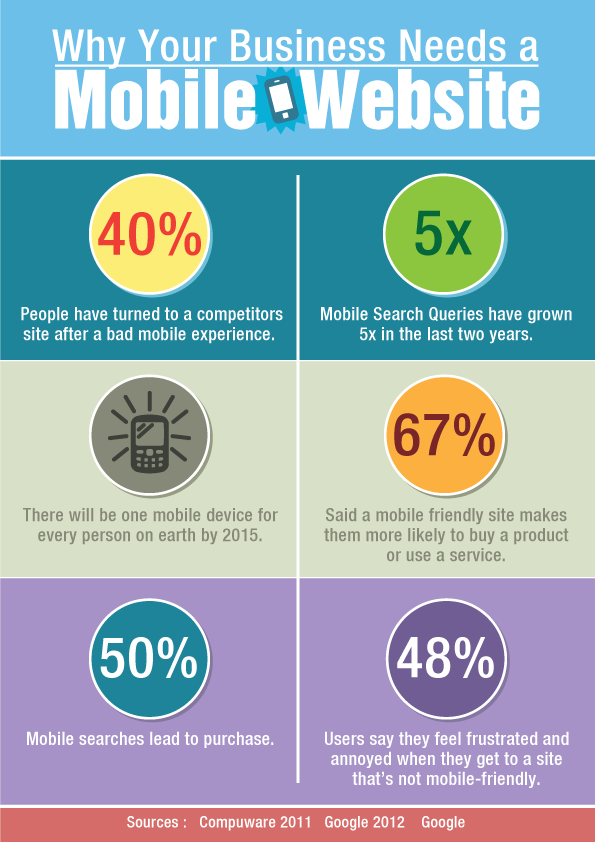 So you have the website that you always wanted for your business, to bring in customers, show them what you are all about and where you are located, right? Great!
But when you go on to your swanky smartphone, does your site readjust itself so that mobile viewers/readers can comfortably read all that informative copy you have written, or paid for?
Does average Joe, with his 3-year old mobile phone and basic mobile web browser even see most of the fancy graphics you laid out on your site?
The answer is unfortunately, probably not.
Luckily this can be rectified. Locally Socially can take the main and important content and elements of its design from your current website and use it to make a specially designed mobile version of your website. This means that people who browse your site on their mobile phone will be able to have a quick and satisfying experience on your business website, instead of the slow-loading, image-heavy zoomed-out version they're having to try and download to their phone now.
You might still be wondering though…
Why does my business website need to be phone-friendly?
Well, the answer is simple.
1 in 5 searches performed on Google are done on mobile devices
33% of mobile searches are for local businesses
74% of users are looking up other local shops' prices
53% purchase something as a result of using their mobile phone  
Needless to say, your local business should be getting a piece of that pie!
What should my mobile site aim to do?
Your mobile-friendly site should be a mini-version of your website, if you have one. It should load a lot quicker and so you should not have lots of images, long pages of text,etc. Instead, it should be like being able to show someone an interactive business card, but instead of them having to remember about contacting you , they can click to call you instantly, they can find your location on Google Maps and even get directions, and if they want to make an enquiry, they'll be able to do so, and it will come straight in to your chosen email address. You can link to social networks to increase engagement or post offers and vouchers, or in some cases you might want to add a menu, or portfolio, or gallery showcasing your food, past work or other photos.
Basically, there is SO much you can do for your local customers on their mobiles, you'll be wondering why you didn't do it before!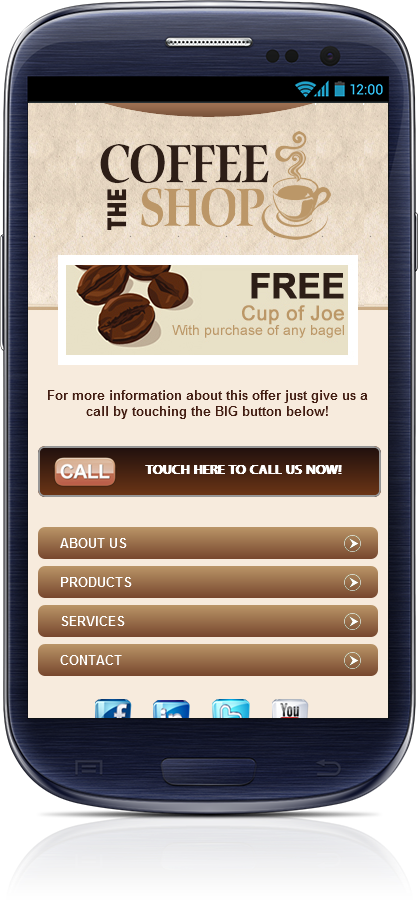 We can include the following features:
Complete Mobile Website Set Up
Contact Forms
Google Maps
Vouchers for customers
add video/images easily
Custom Footer Options
App Style Layouts
SEO Ready
Add Icon to home screen
Add Menus
Social Network Widgets
Full Reporting
Galleries
Mobile-optimised layouts and buttons
and much more!
View Our Mobile Portfolio
Or Choose a Mobile Website Package below:
Don't have a website? Go to this page to look at our hosting packages for mobile websites.